From choice of materials to innovative heater technology, every Sun Stream infrared sauna is produced with your health in mind.
The safest and best quality range of infrared saunas on the market
Sun Stream infrared saunas feature industry first 360º body coverage, ultra low Electromagnetic Field (EMF) and Electric Field (ELF) heaters, and hypoallergenic Canadian Hemlock construction.
Four reasons that make Sun Stream the first choice for infrared saunas

Safety
Our innovative heater technology reduces EMF and ELF to industry low levels, making Sun Stream saunas safer than any other brand on the market.

Superior performance
The most complete body coverage of any sauna brand, our heater placement and 360º technology provides greater immersion in radiant heat.

Lifetime warranty
The Sun Stream range comes with a Residential Lifetime Warranty which includes the heaters, electronic control system, cabinet, and even the light bulbs.

Free delivery
We offer free delivery to most major metropolitan centres and regional locations. Please contact us to find out if our free delivery applies to your location.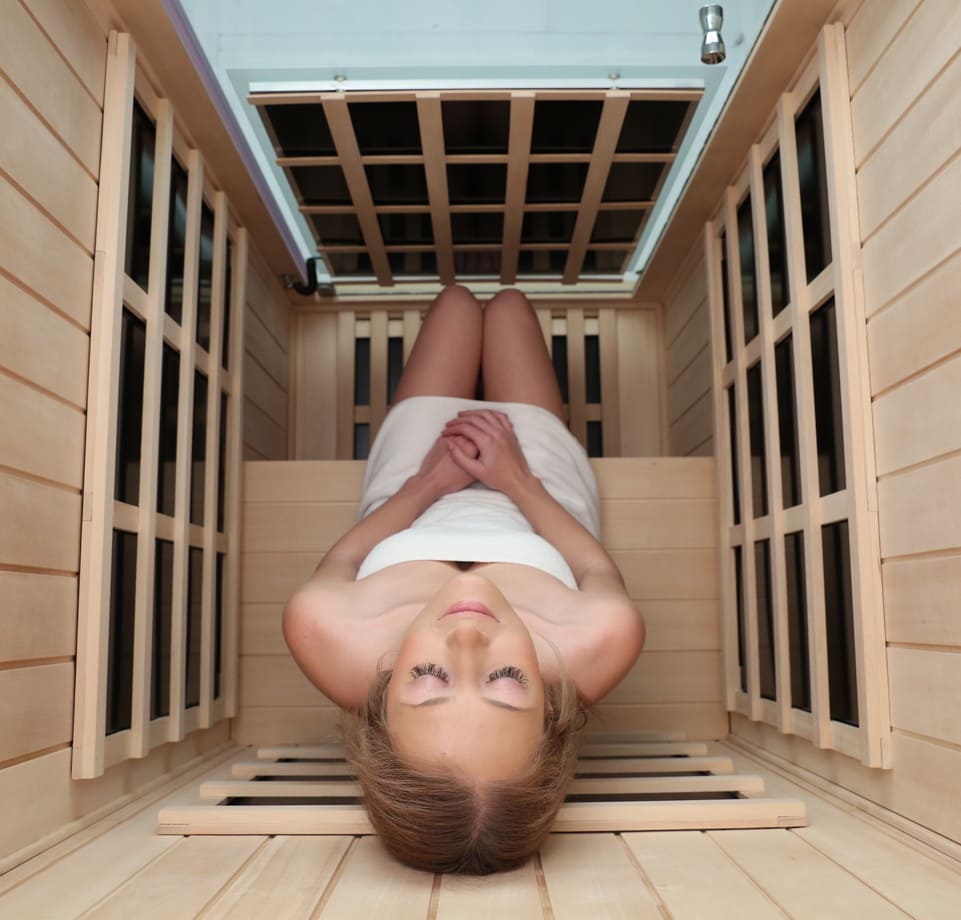 Benefits of the Infrared Sauna
A Sun Stream Infrared sauna offers a superior sweating experience compared to traditional saunas. Rather than relying on cabin temperature alone, the far infrared radiant heat penetrates the body deeply by absorption through the moisture content in your skin to reach deeper levels. Here are some of the most significant benefits infrared saunas provide:
Not sure which sauna is right for you?
We know choosing a sauna can be a big decision, and something that can take a lot of time to research, that's why we're offering to do all the hard work for you.
Simply let us know which Sun Stream sauna you're interested in and the competitor's product you'd like to compare it against, and we'll do our best to send you an impartial evaluation of the two models.
Compare brands
"*" indicates required fields
The Worlds Best Trust Sun Stream
Due to their reputation for safety and performance we settled on a Sun Stream Sauna for hyperthermic conditioning, specifically to assist in muscle pain relief, functioning endurance and athletic performance enhancement in our team." Nick Poulos - Head of High Performance
As I get older I've come to realise that my recovery is just as important as my training. Contrast therapy is a big part of my recovery and I love using my Sun Stream Sauna with my ice bath. The benefits for me far extend feeling good physically but also help me with winding down after a stressful day and help me reset mentally."
I have been using infrared saunas for a long time to aid in my physical recovery but they also help my mental recovery and sleep as well. I love how my sauna keeps my body and mind recovered so I can train harder and longer and always give 100 percent! Getting in the sauna after a solid day of training is the perfect way to unwind and end my day, I absolutely love my Sun Stream Sauna!"
Surfing is a very physical sport, so after a solid session on the water the body needs time to recover and heal. Over the last few years my Evolve 10 Sauna has been my favorite recovery tool. I highly recommend a Sun Stream Sauna, it's incredible!"
I absolutely love my infrared sauna from Sun stream! As an athlete with a busy training schedule, I am always looking for ways to help with recovery. When I am at my home base in Far North Queensland I use my sauna almost everyday, it allows me to feel recharged and recovered. It has been a game changer for me!"
An infrared sauna is an investment in your health. I am grateful that whenever I have a poor night's sleep or my recovery isn't where it needs to be, I can just switch our sauna on and 20 mins later I'm inside building up to a sweat and on my way to feeling better. I chose Sun Stream for their ultra low EMF's and toxic-free materials. I also sweat faster in my Sun Stream than I have in other Infrared saunas I have used in the past.
Feel The Love
Discover the difference Sun Stream Saunas has made in the lives of real customers.
Experience the Ultimate in Wellness with Sun Stream Infrared Saunas - The Best in Australia!
Are you on the hunt for the best infrared sauna in Australia? Look no further than Sun Stream Infrared Saunas! We are proud to offer you an unparalleled sauna experience that will redefine your wellness journey. Here's why Sun Stream stands head and shoulders above the rest when it comes to saunas for sale in Australia.
Features include:
Ultra Low EMF and ELF Heater Technology: At Sun Stream, we prioritize your safety and well-being. Our saunas are equipped with ultra low EMF and ELF heater technology. Unlike many sauna brands, our industry first nano carbon heaters emit virtually no electromagnetic radiation, ensuring that your health is never compromised.
Residential Lifetime Warranty: We believe in the exceptional quality and durability of our products which is why we offer a residential lifetime warranty, giving you peace of mind and confidence in your investment. When you buy an infrared sauna from Sun Stream, you're making a long-term commitment to your well-being.
360 Degree Radiant Heat: Experience the difference with Sun Stream's superior 360-degree radiant heat coverage. Our superior heater placement ensures that every corner of your Evolve 360 sauna is enveloped in soothing, therapeutic warmth. No other sauna in Australia offers such complete radiant heat coverage.
100% FSC Certified Premium Canadian Hemlock Construction: We take pride in using only the finest materials for our saunas. Our saunas are crafted from 100% FSC Certified premium grade Canadian Hemlock wood (NO Plywood), known for its exceptional quality and durability. Our commitment to environmentally responsible sourcing ensures a sauna that's as safe for you as it is for the planet.
Food-Safe Glue Construction: Your health and safety are paramount to us. That's why Sun Stream saunas are constructed using food-safe glue, ensuring that you can relax in your sauna with complete peace of mind. We go the extra mile to make sure every detail is aligned with your health and well-being.
When you choose a Sun Stream Infrared Sauna, you're choosing the best infrared sauna in Australia. So why wait? Elevate your health and well-being today!
Our Blog
Explore stories and insights on the health benefits of infrared saunas.